Water Damaged Flooring Repair in Greensboro, NC:
Summary of Water Damaged Flooring Events:
In early February 2022, while Brian Sechrest was at work, he got a phone call from family members who were at home saying water was coming out from the wall behind the refrigerator. Secrest rushed home to find a busted hose spewing water into the kitchen, quickly flooding the room and damaging floors in the kitchen, dining room, utility room, laundry room, and the edge of the living room.
A report to the insurance company led to a referral to the RestorePro Greensboro, NC office, whose team showed up on-site very quickly to assess the damage. Within another month, the team had completed the restoration of the damaged floors, including all new baseboards.
The Challenges Facing the Sechrest Family:
It only takes a little water to create a lot of damage, and thankfully Sechrest got home and shut off his water within 45 minutes of the hose busting. In that short amount of time, the water had covered the kitchen floor and the adjacent dining area, utility, and laundry room. It had also started to seep under the carpet in the living room.
This Was More Than Just Water Damaged Flooring:
In addition to needing new floors, Sechrest learned his home's entire air conditioning system had to be replaced.
"Water ran down into one of the vents in the dining room," he explains. "The way the house is built, it has a little bit of a decline going from the kitchen to the dining room and living room — they're all connected. And the water just happened to go right toward that vent."
Why the Sechrest Family Chose RestorePro:
In a time of crisis, no one wants to go searching for the help they need. In Sechrest's case, he didn't have to. The insurance company recommended RestorePro for the initial mitigation — drying out the home from the extended exposure to water. When the mitigation was complete and it was time to move on to restoring and replacing the water damaged flooring, Sechrest had the chance to seek out other restoration options, but he chose not to. He'd had a positive experience with the RestorePro team from the minute they stepped foot on his property. Why choose anyone else?
Two aspects that especially stood out were RestorePro's responsiveness — the team was on-site the day after the kitchen flooded — and their timeliness.
"Whatever time they said they'd be here, they were here," says Sechrest. "It wasn't like other companies that give four-hour windows. They were here on time every time."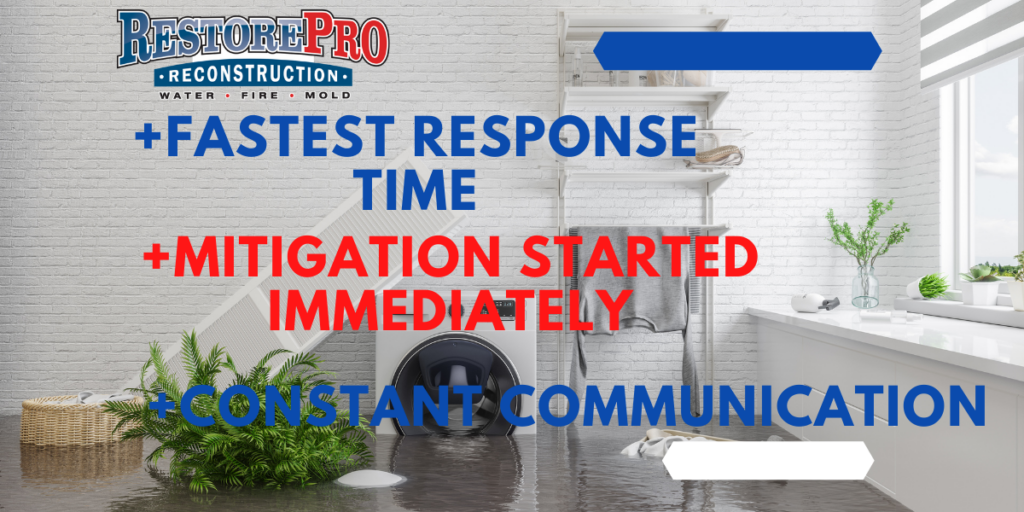 How RestorePro Responded:
"There was nothing surprising with what RestorePro had to do. Nothing that I thought, 'Oh, I didn't expect that.' It was all pretty straightforward. What they said needed to be done had to be done."
– Brian Sechrest, Greensboro, NC
RestorePro stepped in and took care of Sechrest and his family.
"They came out and did the mitigation where they tore up a little bit of flooring and placed fans to dry it out," explains Sechrest. "Then, after about six days, they came to get the fans, and we discussed moving forward with the restoration. Within a couple of weeks, they'd assigned a project manager who came out and discussed what was going to be done. Finally, they came out and put in all new kitchen, dining, utility, and laundry room floors; and they stretched the carpet back out in the living room, making it nice and smooth again. They also put new baseboards down. Thankfully, they didn't have to fix the subfloors, but my house got a whole new floor."
The Results of Our Water Damage Restoration:
Sechrest is thrilled with the results of the restoration project. "The kitchen looks just like it did before, except there's just a different colored floor," he says. "Nothing had to be permanently removed or moved. It looks great."
And he appreciated the solid customer service he experienced in the process. "Some companies might say, 'Ah, this is an insurance job. We'll get paid no matter what,'" he says. "Not RestorePro. They treat you like an actual person, not just another customer.
They treat you like you're a priority, which I really appreciate."
When You Experience Water Damage – Call RestorePro Reconstruction
If water has damaged your home or the home of someone you know, reach out to the team at RestorePro. We'll get to you quickly and get your home restored in record time. And we'll take you step by step through the process so you never have to wonder what happens next.