What To Do When You Experience Water Damage in Your Home
Our teams have been busy all summer helping our clients with water damage and storm damage repairs. It seems like summer 2021 has been more turbulent than most. While water damage in your home can stem from storm damage and become a problem over time (leaking roof, roof flashings, poor grading, window leaks), some forms of water damage happen instantly and without warning.
One major issue that arises is how homeowners deal with such an emergency without knowing what steps they should take or where they can find information about procedures following these types of events- so our goal at RestorePro Reconstruction has been to begin spreading awareness through articles, blog posts, social media marketing campaigns to help the communities in which we serve understand proper planning techniques for all forms of damage events.
One of our main goals in any interaction with our clients is to help them become more proactive and aware of the signs of potential issues.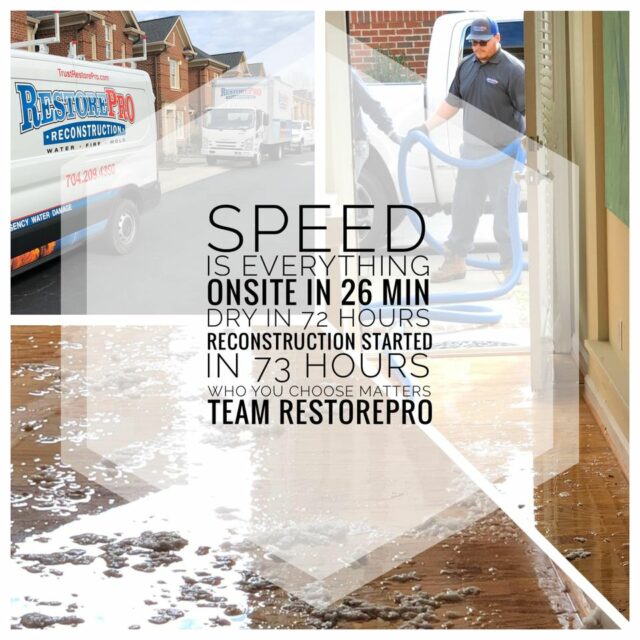 Possible Signs of Water Damage:
While it's completely impossible to prevent water damage events that are simply unpreventable, there are some tell-tale signs that can indicate you have a water leak that might need attention.
Strange Odor – this is caused by moisture that has entered inside wood components such as doors, floorboards, and windows frames. As time passes, odors will worsen.
Water residue or small leaks around your windows can be a clear indicator of potential issues if repairs aren't made soon.
Water in Your Basement – If you notice water or if water sometimes drips in your basement, it could be a sign of a leaky pipe somewhere above the basement ceiling.
Ceiling cracks are often a warning sign. Particularly if they extend across the room and appear near windows or exterior walls.
This might sound obvious, but water spots on your ceiling. We can't tell you how many times we've been called in for damage restoration and our client was knowledgeable about the water spots, but thought the issue had been repaired previously.
Cracked or bent wood under your sinks. A small sink leak in your kitchen or bathroom can remain undetectable until the entire subfloor is compromised or mold is visible.
Bubbling or bowing floors around appliances.
Understanding the Cause:
One of the hardest things to determine, unless it's painfully obvious, is the actual cause of your water damage issue. Take for instance a leak from a household dishwasher.
This can be something as simple as:
An issue with your actual appliance
Adding too much detergent
Using detergent that isn't compatible with your appliance
Clogged sink lines
Or, it could be a key indicator that you have a larger issue with your home's main drain lines. Over time, roots and debris can impede the flow of water to your community sewage lines. There are root causes to many water damage problems, and without professional inspections and repairs, you may experience this same issue again.
Is it Safe?:
Understanding the severity of the water damage is extremely important. Our rule of thumb is this – if it looks severe, it probably is severe. In this case it's important to call the professionals to assess the damage and to, most importantly, ensure the safety of your family. While some home-related water damage issues can be contained by a resourceful homeowner (toilet backup, shower drain backup, broken household equipment such as washers, dishwashers, and refrigerators), it's important to (especially in the Southeast), understand that water doesn't just stay on the surface. If your water damage is stemming from an appliance or fixture (dishwasher, fridge ice maker, toilet or shower, water heater) if it's safe, try to turn off the main water valve to your home. Ensuring the structural integrity of your home after a water damage issue is very important. Also, it's important that all areas, even subfloors, are properly cleaned and inspected to prevent serious mold issues over time. At RestorePro Reconstruction, we've seen it all over the last 30+ years. It's always best to call in the professionals to ensure the safety of your family in the event of a water damage issue.
Quick Notes:
If it looks severe it probably is. Call the professionals immediately.
Try to shut off your main water shut off valve.
What To Do After Water Damage:
Again, every suggestion here is under the assumption that you are in a structurally safe environment. For items that are too heavy to move (couches, tables, hutches..etc), you can use wood blocks to raise the items above the affected wet area to protect them.
Try to remove standing water by mopping, blotting with towels, or even a shop vac.
Remove high-value items away from the affected area.
Remove table lamps and all electrical equipment that can be affected by standing water or even equipment that can be affected by an increase in home humidity.
Using your HVAC system can actually help remove excess humidity.
Any fabric that can be moved: (Area Rugs, Blankets, Afghans, Pillows) should be removed and set in a safe area to dry accordingly.
Water Damage can Lead to Harmful Mold if not Repaired Correctly:
Black mold, scientifically known as Stachybotrys chartarum, is a toxic fungus that's often found in homes with water damage-affected areas because the environment it needs to grow (moisture) exists there. While your initial concern will definitely be your home, your floors, and any damaged items. Being mindful of the long-term effect of water damage in your home can help you prepare for further testing or even looking out for the signs of mold. We offer third-party mold testing, and mold remediation for our clients affected by black mold.
We provide water damage restoration services for both Commercial and Residential clients throughout the Southeast. Our offices in Raleigh, Durham, Fayetteville, Greensboro, Wilmington, Charlotte, & Knoxville offer 24/7 emergency water damage restoration services.