Commercial Water Damage Repair:
What happens when a 50-year-old building needs extensive water damage repair?
Kelly Gregory was the community manager at Granville Towers in Chapel Hill, North Carolina when she got a call that the top floor of the West Tower was flooding. The Towers function as a home-away-from-home for University of North Carolina-Chapel Hill (UNC-CH) freshman and sophomore students.
They were just a couple of weeks from the semester's end when the call came. The water pouring into the 9th-floor room likely resulted from a student unknowingly hitting a sprinkler head while packing up.
The water damaged the 50+-year-old building extensively. After the initial mitigation work to dry out the floors and take care of students' property, RestorePro's Durham Water Damage teams took several hallways down to the studs and rebuilt from there.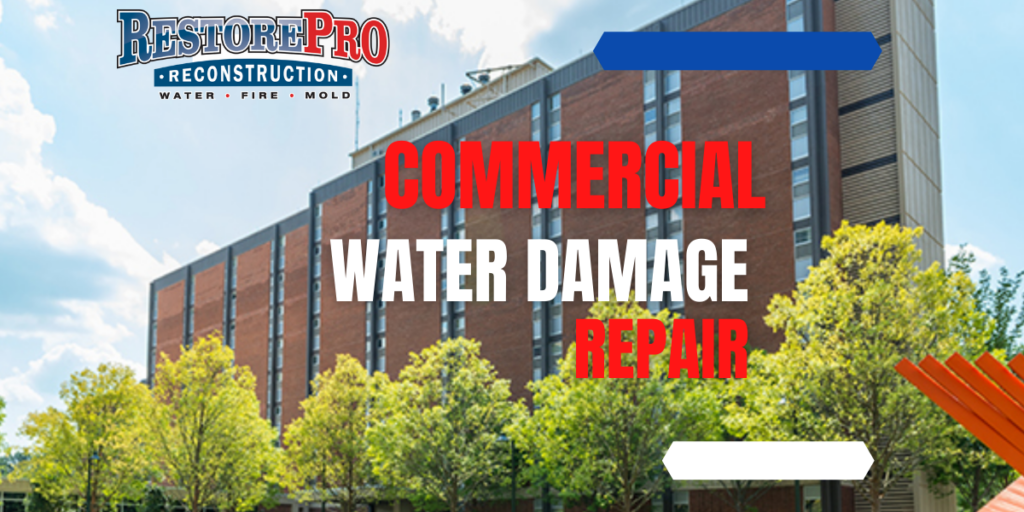 The Challenges Facing Granville Towers:
"I was surprised just how invasive a situation like that can be with a building. You think it's just one sprinkler, and it only ran for 20 minutes, but the amount of work to restore an old building was extensive."

Kelly Gregory, Chapel Hill, NC Former Community Manager at Granville Towers
Half of the building remained occupied during the restoration process, and students who remained were in the middle of exams. It was quite a challenge to balance it all.
"That tower is just a long hallway with about 30 rooms per hallway. Nine floors" says, Gregory. "It's divided up with the elevators in the middle. That whole half of the tower — the side that the damaged sprinkler was in — was impacted from the top down. All the way to the first floor."
Students who were living there when it happened would soon be leaving, but others were scheduled to arrive.
"We were under a pretty tight timeline for that amount of construction because we also had new students coming in August," Gregory explains. "And we did a lot of summer camps at the property, so it was a week-by-week assessment of whether we could house anyone on the other side that wouldn't be impacted."
Why Granville Towers Chose RestorePro:
A previous basement flood had given Granville Towers experience with the experts at RestorePro. When the 9th Floor flooded, Gregory knew who to call.
"'I'd built that rapport with RestorePro. I knew Dave Smith, and he would come by and check on things from time to time," explains Gregory. "We kept in touch because he's well aware that in this line of work, with community living in close quarters, things happen."
How RestorePro Managed the Water Damage Repair:
"RestorePro's response time is phenomenal. They're very quick to get some folks out there. To put eyes on whatever is happening."

Kelly Gregory, Chapel Hill, NC

Gregory called RestorePro right away, and the team took the lead. "We hired them for the water mitigation, and they helped first with the contents," she explains. "All of the student contents that had gotten damaged or not damaged so much needed to be stored. RestorePro helped facilitate that. Then, they really worked with the insurance company, taking the lead to assess what the damage was, what would need to be done per floor, and how to get things back — whatever the required repairs would be. They also worked with us to set up a staging area in the lobby so we could always ask questions or let them know if we had any concerns."
The Results:
Gregory couldn't be more pleased.
"They were on time and for the scope of the project, RestorePro was reasonable. They did the job professionally. It looks great — brand new."

Kelly Gregory
"RestorePro is reliable. They're trustworthy, and they're my first go-to choice."

Kelly Gregory
Experts in Water Damage Mitigation:
Need assistance with a large loss due to water damage? The team at RestorePro has the expertise to assess and manage the mitigation and restoration process. Reach out for more information.