We teamed up to help with Hurricane Ian!
Hurricane Ian was the deadliest hurricane to strike the state of Florida since 1935, causing widespread, catastrophic damage with its Category 4 winds, rain, and storm surge. It is estimated that the total damage will exceed over $50 billion, much from flooding brought about by a storm surge of 10 to 15 feet. Millions were left without power in the storm's wake, and numerous residents were forced to take refuge on their roofs. Sanibel Island and Pine Island were hardest hit by the storm surge, which destroyed numerous structures and damaged both the Sanibel Causeway and the bridge to Pine Island.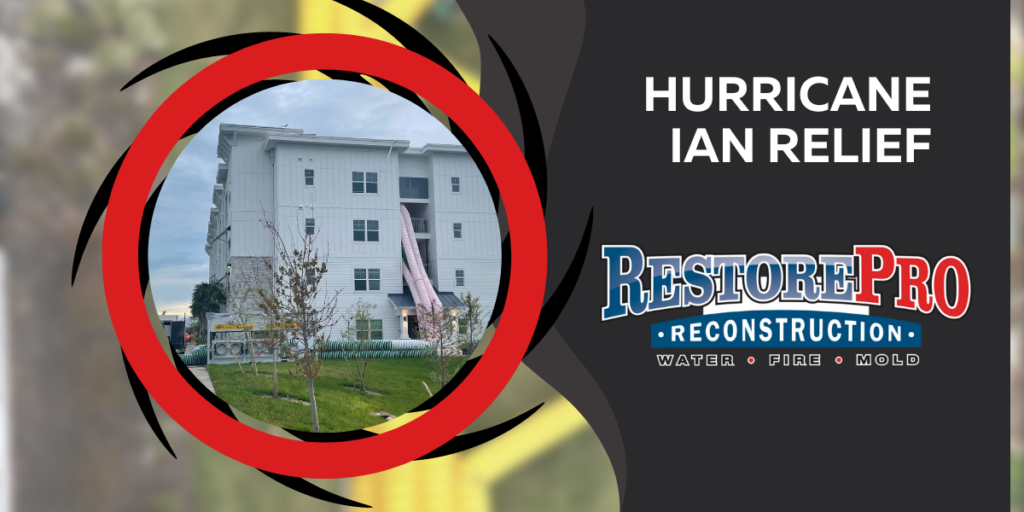 In the days leading up to the storm, FLEET Response partner companies RestorePro and Cousino Restoration began developing a plan to respond to our existing customers in the Southeast if they were to sustain damage. This proactive approach proved vital to a coordinated and rapid response when it was finally safe.
We were called down to assess one of their complexes in Orlando which was damaged from flooding when their ponds overflowed into ten different buildings, 40 units in total. Our team, including 21 laborers, moved quickly to mitigate the drywall, flooring, cabinets, trim, and contents along with the use of 48 dehumidifiers and 260 air movers over a week and a half.
One of the biggest challenges was the fact that the units were so spread out due to the sheer size of the complex. Additionally, our team dealt with the contents from 40 separate tenants. In the end, Large Loss Mitigation Manager James Wolf and Lead Mitigation Tech/Manager Eric Jordan oversaw a total claim of $480,000.
Another multi-family client of RestorePro's with communities throughout the Southeast. Business Development Director, Brian Charlebois recently signed a Service Agreement to service their entire portfolio. So, when the storm subsided, our folks were there to help them mitigate 120+ units affected at one of their properties where the roof was blown off. In total, we had 85 people working on the site, with the support of 140 dehumidifiers, 120 air scrubbers, 3x 500kw generators, and 320 tons of cooling.
Not surprisingly, there were a number of challenges based on the size of the project. The most significant was related to the fact that the owner was unable to get a permanent roof on one building for almost a month, causing additional damage from subsequent rain and necessitating that the team starts over again. 10" of icynene was applied to the underside of the roof decking which was holding water and approximately 12,000/sf had to be hand scraped. Additionally, 1.5" of gypcrete over the vapor barrier and over the OSB on four separate floors which had to be dried from both sides.
One shared issue at both properties was the internet and resulting communication issues for a month. However, the team developed a workaround, consisting of manually loading most project documentation (including photos) onto flash drives and snail-mailed to Cousino in Perrysburg so they could be added to Dropbox.