Seasonal Mold & Water Damage:
Spring is the time of year when many people think about cleaning and sprucing up their homes after the long, cold winter. However, it's also the time of year when homeowners are most likely to discover mold and water damage caused by snow, ice, and winter winds. If you suspect that your home has been affected by water damage, it's important to take action quickly in order to prevent further damage and keep yourself and your family safe. If given enough time, every home will experience water damage to some extent. Over time, your roof may become compromised, or an appliance may leak. Even the smallest instance of water damage can cause major issues to your home. When water damage isn't detected immediately, it can lead to mold growth in your home or business.
Mold is a type of fungus that grows in moist environments. If left unchecked, it can spread rapidly and cause health problems for those who are exposed to it, particularly people with allergies or respiratory issues. Mold thrives in warm, humid environments, so it's particularly common in the spring and summer months.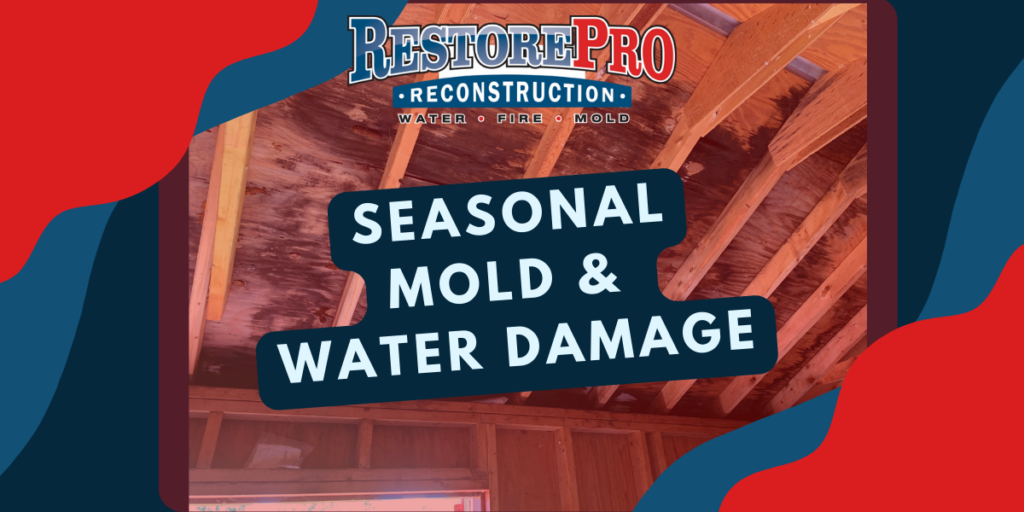 To prevent mold and water damage, it's important to take a proactive approach to home maintenance in the spring. Here are a few tips:
Inspect your roof and gutters for damage and clear any clogs or debris.
If your roof is more than 15 years old, you might want to have it inspected seasonally.
If your roof is occasionally inundated with limbs and tree debris (leaves/needles) clearing all debris before it can affect the integrity of your roof and shingles is essential.
Look for the telltale signs of water damage in your home: Stained ceilings, warped floors or walls, cracked tiles, and pungent smells.
Make sure that your bathroom and kitchen are well-ventilated, and run a fan when you shower or cook.
Consider installing a sump pump to prevent water damage if you have a basement.
Clean and disinfect any areas that may have been affected by mold, and use mold-resistant paint on walls and ceilings.
Consider investing in a dehumidifier to control moisture levels in your home.
If you do find mold or water damage in your home, it's essential to address it promptly. At RestorePro Reconstruction, we pride ourselves on prompt service. When you call, our water mitigation team is minutes away. Let's face it, there are amazing benefits to living in the Southeast, but the overwhelming humidity of the spring and summer months isn't one of them. If you have questions or concerns about possible water damage or mold, call our offices today.